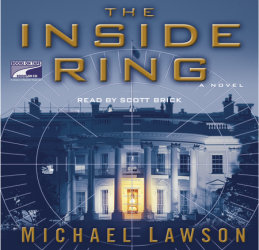 BOT Exclusive
The Inside Ring
A Novel
Imprint: Books on Tape
Genre: Fiction - Thrillers - Political

Release Date: February 05, 2008
10 Hours and 12 Minutes
List Price: $85.50
ISBN: 9781415950722
From a bluff overlooking Georgia's untamed Chattooga River, an assassin fires three shots. The President of the United States is wounded; his best friend and a Secret Service agent are killed. Two days later, a man in Landover, Maryland, commits suicide and in the man's home is overwhelming evidence that he was responsible for the assassination attempt.

General Andy Banks, the Secretary of Homeland Security, is nursing a guilty conscience. Only days before the assassination attempt on the President, Banks had received a note with a dire warning: "Eagle One is in danger. Cancel Chattooga River. The inside ring has been compromised. This is not a joke." The message—on Secret Service stationery—was signed "An agent in the wrong place." Banks immediately passed the note on to Secret Service Director Patrick Donnelly, who proceeded to ignore it.

Even after the assassin is found dead, Banks is determined to dig a little deeper. He turns to Speaker of the House John Fitzgerald Mahoney. The Speaker has a guy—an under-the-radar, go-to guy he uses for things like this—things he can't afford to have connected to his office. The guy is Joe DeMarco, an honest lawyer with a sordid family history.

After one meeting with Banks, DeMarco realizes he's in way over his head. But Mahoney finds the prospect of taking down Donnelly irresistible and sets DeMarco on a trail that twists through the Secret Service, the FBI, and the Department of Homeland Security and snakes all the way back to one of the more enduring mysteries of the twentieth century.

Brimming with suspense, authenticity, and wit, The Inside Ring marks the debut of a major new talent and introduces a cast of intriguing characters with many more cases ahead.