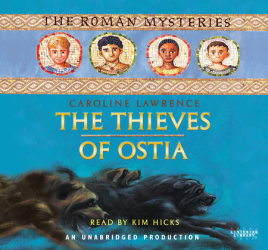 The Thieves of Ostia
The Roman Mysteries Book 1
Imprint: Listening Library
Genre: Young Adult Fiction - Historical - Ancient Civilizations
Ages: 12-14 years
Release Date: July 14, 2009
3 Hours and 56 Minutes
List Price: $32.30
ISBN: 9780307582034
The year is 79 AD. The place is Ostia, the port of Rome. Flavia Gemina, a Roman sea captain's daughter, is about to embark on a thrilling adventure.

Set in the graveyard, marketplace, and courtyards of a Roman city, this fast-paced mystery paints a vivid picture of life in ancient times.

When the dogs on Flavia's street start dying, she is determined to find out who is killing them–and why. Her investigation leads her to three extraordinary people: Jonathan, her new neighbor; Nubia, and African slave-girl; and Lupus, a mute beggar boy. They become firm friends as they search for the killer, narrowly escape being kidnapped by a slave dealer, and uncover a series of burglaries.