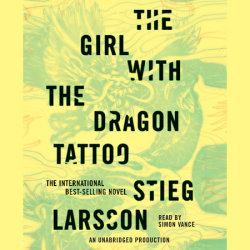 The Girl with the Dragon Tattoo
Imprint: Books on Tape
Genre: Fiction - Mystery & Detective - International Crime & Mystery

Release Date: September 23, 2008
16 Hours and 21 Minutes
List Price: $95
ISBN: 9781415957806
Categories:
Fiction - Mystery & Detective - International Crime & Mystery, Fiction - Thrillers - Suspense, Fiction - Crime
Tags:
mystery, sweden, thriller, crime, suspense, murder, journalism, swedish, crime fiction, serial killer, lisbeth salander, detective, stockholm, missing persons, millennium trilogy, journalist, journalists, stieg larsson, hacker, millennium, rape, mikael blomkvist, family, serial killers, hacking, 21st century, murder mystery, abuse, contemporary, family secrets
A spellbinding amalgam of murder mystery, family saga,
love story, and financial intrigue.

It's about the disappearance forty years ago of Harriet Vanger, a young scion of one of the wealthiest families in Sweden . . . and about her octogenarian uncle, determined to know the truth about what he believes was her murder.

It's about Mikael Blomkvist, a crusading journalist recently at the wrong end of a libel case, hired to get to the bottom of Harriet's disappearance . . . and about Lisbeth Salander, a twenty-four-year-old pierced and tattooed genius hacker possessed of the hard-earned wisdom of someone twice her age who assists Blomkvist with the investigation. This unlikely team discovers a vein of nearly unfathomable iniquity running through the Vanger family, astonishing corruption in the highest echelons of Swedish industrialism, and an unexpected connection between themselves.

Contagiously exciting, it's about society at its most hidden, and about the intimate lives of a brilliantly realized cast of characters, all of them forced to face the darker aspects of their world and of their own lives.