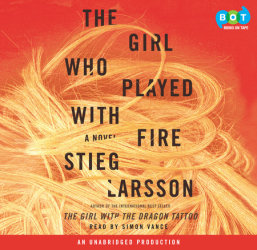 BOT Exclusive
The Girl Who Played with Fire
Imprint: Books on Tape
Genre: Fiction - Mystery & Detective - International Crime & Mystery

Release Date: July 28, 2009
18 Hours and 35 Minutes
List Price: $50
ISBN: 9781415964361
Categories:
Fiction - Mystery & Detective - International Crime & Mystery, Fiction - Thrillers - Suspense, Fiction - Crime
Tags:
mystery, thriller, sweden, crime, suspense, murder, swedish, journalism, lisbeth salander, crime fiction, stockholm, millennium trilogy, mikael blomkvist, detective, millennium, stieg larsson, sex trafficking, trilogy, journalists, hacker, prostitution, journalist, sex trade, 21st century, swedish literature, crime thriller, schweden, contemporary, hacking, murder mystery
Mikael Blomkvist, crusading journalist and publisher of the magazine Millennium, has decided to run a story that will expose an extensive sex trafficking operation between Eastern Europe and Sweden, implicating well-known and highly placed members of Swedish society, business, and government.

But he has no idea just how explosive the story will be until, on the eve of publication, the two investigating reporters are murdered. And even more shocking for Blomkvist: the fingerprints found on the murder weapon belong to Lisbeth Salander–the troubled, wise-beyond-her-years genius hacker who came to his aid in The Girl with the Dragon Tattoo, and who now becomes the focus and fierce heart of The Girl Who Played with Fire.

As Blomkvist, alone in his belief in Salander's innocence, plunges into an investigation of the slayings, Salander herself is drawn into a murderous hunt in which she is the prey, and which compels her to revisit her dark past in an effort to settle with it once and for all.