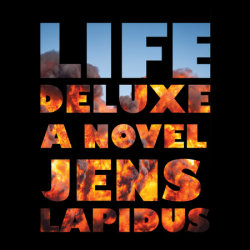 Life Deluxe
A Novel
Imprint: Books on Tape
Genre: Fiction - Mystery & Detective - General

Release Date: September 16, 2014
20 Hours and 23 Minutes
List Price: $95
ISBN: 9780307966742
The final chapter in the electrifying Stockholm Noir Trilogy, which has been translated into more than thirty languages worldwide: here is the no-holds-barred, rapid-fire tale of a supreme struggle for the legacy of the Swedish underworld, as the power, honor, and respect commanded by Stockholm's largest criminal organization are passed from father to daughter.
 
Jorge was making a living as a drug dealer until he was caught and thrown into prison. Recently released and warned to keep out of trouble, he's already bored with his new existence: selling lattes and cappuccinos at a café. Who wouldn't be? But Jorge has a plan, and big money looms on the horizon if he can pull off one final audacious heist and flee the country before the police close in.
 
Meanwhile, Deputy Inspector Martin Hägerström—entrusted with a secret mission, code name Operation Tide—has gone deep undercover as a disgraced cop turned corrections officer. He's slowly earning the trust of Stockholm's imprisoned expert money launderer, Johan Westlund. A career criminal with a taste for the jet-setting lifestyle, JW is a dangerous man to befriend, one who may demand more loyalty than Hägerström had planned on offering.
 
Natalie is the twenty-two-year-old daughter of Radovan Kranjic, the Serbian crime boss who rules Sweden's underworld. When an assassin threatens Radovan's life, Natalie is hurled into a chaotic struggle for control of her father's empire—and the competition is fierce. Who will rise to power in the voracious hunt for money, prestige, and luxury to become Stockholm's new king—or queen—of crime?