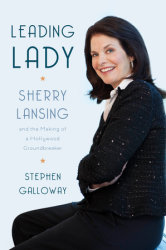 Leading Lady
Sherry Lansing and the Making of a Hollywood Groundbreaker
Imprint: Books on Tape
Genre: Biography & Autobiography - Entertainment & Performing Arts

Release Date: April 25, 2017
14 Hours
List Price: $95
ISBN: 9780147527004
The definitive biography of movie executive and philanthropist Sherry Lansing traces her groundbreaking journey to become the first female head of a major motion picture studio, sharing behind-the-scenes tales from movie sets and Hollywood boardrooms.

When Sherry Lansing became the first woman ever to be named president of a major studio, the news ricocheted around the world. That was just the beginning of an extraordinary run that saw her head two studios, make hundreds of films, produce classic pictures such as Fatal Attraction and rule for twenty-five years as the most powerful woman Hollywood has ever known.

Award-winning writer Stephen Galloway takes us behind the scenes of Lansing's epic journey—inside the battles; up close with the stars; and into the heart of a creative world populated by the likes of Meryl Streep, Steven Spielberg, Jane Fonda, Angelina Jolie and Tom Cruise. He shows us the velvet touch that masked the iron hand, and the roller-coaster drama behind such movies as Titanic, Forrest Gump, Braveheart and Saving Private Ryan.

Above all, he takes us into the mind of Lansing, creating a revealing portrait of a dynamic, driven woman who overcame unimaginable odds, pushed boundaries and left Hollywood at the peak of her power to achieve the life she wanted.