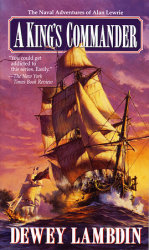 A King's Commander
Imprint: Books on Tape
Genre: Fiction - Action & Adventure

Release Date: February 09, 2010
15 Hours and 39 Minutes
List Price: $100
ISBN: 9780307739254
1793--For love of war and money . . .

Once a French corvette, she was reborn HMS Jester, sleek and fast. At her sea-sprayed helm is former Midshipman Alan Lewrie, turned grizzled warrior by trade. But when Commander Lewrie reaches the island of Corsica he gets orders for which even he is not prepared: lure his archenemy, French commander Guillaume Choundas, into battle--and personally strike him dead. . . .

From splintering-hulled ships battling broadside to exotic ports of call, the adventures of Alan Lewrie capture an age of heroism and action on the great, wind-lashed fighting ships.