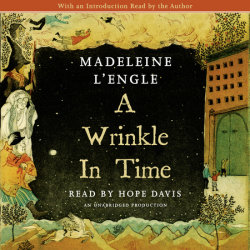 A Wrinkle in Time
Imprint: Listening Library
Grades: Grade 5 & Up
Ages: 10 and up
Release Date: January 10, 2012
6 Hours and 30 Minutes
List Price: $25
ISBN: 9780307916594
Categories:
Juvenile Fiction - Classics, Juvenile Fiction - Fantasy & Magic, Juvenile Fiction - Science Fiction - Time Travel
Tags:
fantasy, science fiction, young adult, time travel, ya, children's, classic, children, adventure, classics, children's literature, family, juvenile, tesseract, children's fiction, kids, love, space, space travel, science, magic, literature, religion, l'engle, youth, childhood, juvenile fiction, time quartet, time, siblings
Madeleine L'Engle's ground-breaking science fiction and fantasy classic, soon to be a major motion picture.

Meg Murray, her little brother Charles Wallace, and their mother are having a midnight snack on a dark and stormy night when an unearthly stranger appears at their door. He claims to have been blown off course, and goes on to tell them that there is such a thing as a "tesseract," which, if you didn't know, is a wrinkle in time. Meg's father had been experimenting with time-travel when he suddenly disappeared. Will Meg, Charles Wallace, and their friend Calvin outwit the forces of evil as they search through space for their father?

In 1962, Madeleine L'Engle debuted her novel A Wrinkle in Time, which would go on to win the 1963 Newbery Medal. Bridging science and fantasy, darkness and light, fear and friendship, the story became a classic of children's literature and is beloved around the world. Now Disney is taking it to the silver screen! Directed by Ava DuVernay and with an all-star cast that includes Oprah Winfrey, Reese Witherspoon, Mindy Kaling, Chris Pine, and newcomer Storm Reid, the major motion picture brings the world of Wrinkle to life for a new generation of fans.

A Wrinkle in Time is the first book in The Time Quintet, which consists of A Wrinkle in Time, A Wind in the Door, A Swiftly Tilting Planet, Many Waters, and An Acceptable Time.