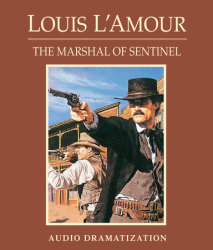 The Marshal of Sentinel
Imprint: Books on Tape
Genre: Fiction - Westerns

Release Date: July 01, 2008
1 Hours
List Price: $17.10
ISBN: 9781415956557
Louis L'Amour brings you the Wild West as you've never heard it before. This classic story, complete with a full cast, stirring music and authentic sound effects, sweeps you back to the glory days of the late 1800's. Filled with cowboys and killers, cunning crooks and eager innocents, this exclusive production of The Marshal of Sentinel brings to life the true flavor of the Old West.

The Marshal of Sentinel

Tough and vicious, the Fred Henry Gang had been robbing banks all along the stage route from Santa Fe to Tularosa. Then they added murder to their list of misdeeds. It was only a matter of time before they hit the sleepy town of Sentinel, and when Marshal Fitz Moore saw the lone grey horse with the "Rocking R" brand tied up behind Earl Peterson's old corral at dawn, he knew that day had come.

But when Julia Heath appeared out of the blue to raise the spectre of the past -- accusing the Marshal of killing her brother in cold blood -- he had a desperate and a delicate situation on his hands. Tom Heath's death had been a tragic accident. Now the Marshal had to find a snake-hearted liar, foil a bank robbery, prevent a bloodbath, and pray that the lovely young lady would fathom the quick, cruel violence of the savage frontier and find forgiveness in her heart.

Don't miss the many other exciting dramatizations of Louis L'Amour's short stories!