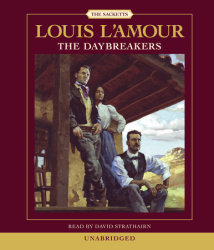 The Daybreakers
Imprint: Random House Audio
Genre: Fiction - Westerns

Release Date: February 26, 2008
6 Hours and 30 Minutes
List Price: $25.95
ISBN: 9780739319048
Categories:
Fiction - Westerns, Fiction - Action & Adventure, Fiction - Historical - General
Tags:
western, historical fiction, l'amour, louis l'amour, american west, historical, westerns, western stories, new mexico
Tyrel Sackett was born into trouble but vowed to justice. After having to kill a man in Tennessee, he hit the trail west with his brother Orrin. Those were the years when decent men and women lived in fear of Indians, rustlers, and killers, but the Sackett brothers worked to make the West a place where people could raise their children in peace. Orrin brought law and order from Santa Fe to Montana, and his brother Tye backed him up every step of the way. Till the day the job was done, Tye Sackett was the fastest gun alive.