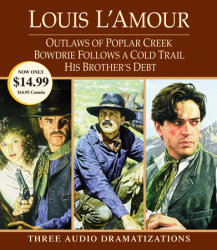 Outlaws of Poplar Creek / Bowdrie Follows a Cold Trail / His Brother's Debt
Imprint: Random House Audio
Genre: Fiction - Westerns

Release Date: February 12, 2008
3 Hours
List Price: $14.99
ISBN: 9780739358832
Outlaws of Poplar Creek
Few travelers happen by Lee's Canyon. But when Texas Ranger Chick Bowdrie suddenly appears at Moby Fosdick's door looking for Shad Tucker, slowly brewing trouble begins boiling over fast. Before the sun sets, bullets are flying. And by the time it rises again, Bowdrie's badly outnumbered, sixteen-year-old Lily Fosdick is trapped in a cave with a cold-hearted killer, and it's high time for nineteen-year-old Jerry Fosdick to decide which side of the law he's one.

Bowdrie Follows a Cold Trail
When Texas Ranger Chick Bowdrie rides into a long-abandoned ranch, he discovers the skeleton of its owner. All signs indicate that he was murdered years before, and that his wife and young daughter were taken away by force. Bowdrie vows to bring the killer to justice and to track down the whereabouts of the missing women. The cold trail leads to hot lead in the town of Gabel's Stop, where a hardcase rancher has been waiting sixteen years for the payoff of a lifetime.

His Brother's Debt
Cattle rancher Ben Kerr wants Jim and Jack Casady's prime farmland real bad. He's offered them good money, but they won't sell. When the Casady brothers find Kerr's cattle grazing on their land, anger rises up like bile in Jack Casady's gut and tempers flare. As Jack rushes up from behind to warn Jim of an impending ambush by Kerr and his cronies, he's mistakenly shot by his own brother. Jim, devastated by his mistake, heads for the hills to do some soul-searching, haunted by the vision of the brother he'd gunned down.