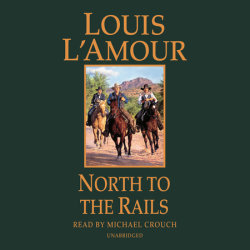 North to the Rails
A Novel
Imprint: Random House Audio
Genre: Fiction - Westerns

Release Date: April 09, 2019
7 Hours
List Price: $30
ISBN: 9781524783358
When Tom Chantry comes west to buy cattle, he quickly runs into trouble. During a drunken scuffle in a bar, Dutch Akin challenges Chantry to a gunfight. Leaving town rather than face Akin, Chantry is quickly branded a coward.

Later, when hiring men to take his herd to the railroad, Chantry faces a dilemma: No one wants to make the long, dangerous ride with a leader of questionable courage. So when French Williams, a shrewd and ruthless cattleman, makes Chantry an offer, Tom reluctantly accepts his unusual terms: Tom must remain with the drive from start to finish. If he fails to do so, the entire herd will belong to French.

Tom quickly learns that life is not going to be made easy for him. The first man French hires is Dutch Akin.