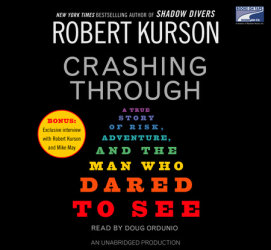 BOT Exclusive
Crashing Through
The Extraordinary True Story of the Man Who Dared to See
Imprint: Books on Tape
Genre: Biography & Autobiography - Medical (incl. Patients)

Release Date: May 15, 2007
10 Hours and 13 Minutes
List Price: $85.50
ISBN: 9781415938737
Blinded at age three, Mike May defied expectations by breaking world records in downhill speed skiing, joining the CIA, and becoming a successful inventor, entrepreneur, and family man. He had never yearned for vision.

Then, in 1999, a chance encounter brought startling news: a revolutionary stem cell transplant surgery could restore May's vision. The procedure was filled with risks, some of them deadly, others beyond May's wildest dreams. There were countless reasons for May to refuse vision. He could think of only a single reason to go forward. Whatever his decision, he knew it would change his life.

Beautifully written and thrillingly told, CRASHING THROUGH is a journey of suspense, daring, romance, and insight into the mysteries of vision and the brain. Robert Kurson gives us a fascinating account of one man's choice to explore what it means to see–and to truly live.