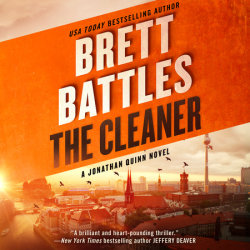 BOT Exclusive
The Cleaner
Imprint: Books on Tape
Genre: Fiction - Thrillers - Suspense

Release Date: July 03, 2007
12 Hours and 29 Minutes
List Price: $95
ISBN: 9781415941324
Meet Jonathan Quinn: a freelance operative with a take-no-prisoners style and the heart of a loner. His job? Professional "cleaner." Nothing too violent, just disposing of bodies. But in Brett Battles's electrifying debut novel, Quinn's latest assignment will change everything.

The job seemed simple enough: investigating a suspicious case of arson. But when a dead body turns up–and Quinn's handlers at "the Office" turn strangely silent–he knows he's in over his head. With only a handful of clues, Quinn struggls to find out why someone wants him dead . . . and if it's linked to a larger attempt to wipe out the Office.

Quinn's only hope may be Orlando, a woman from his past who may hold the key to solving the case.  Suddenly the two are prying into old crimes, crisscrossing continents, and struggling to stay alive. But as the hunt intensifies, Quinn is stunned by a chilling secret . . . and a brilliantly orchestrated conspiracy.

Furiously paced, filled with superbly drawn characters and pitch-perfect dialogue, THE CLEANER confirms Battles's place as one of the most exciting new talents in suspense fiction.