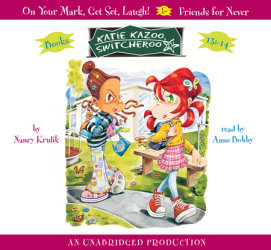 Katie Kazoo, Switcheroo: Books 13 & 14
On Your Mark, Get Set, Laugh! and Friends For Never
Imprint: Listening Library
Grades: Grades 2-5
Ages: 7-10 years
Release Date: December 09, 2008
2 Hours and 14 Minutes
List Price: $20.40
ISBN: 9780739371435
Katie is an ordinary fourth-grader–except for one very extraordinary problem!  She accidentally wished on a shooting star to be anyone but herself. But what Katie soon learns is that wishes really do come true–and in the strangest ways . . .

On Your Mark, Get Set, Laugh!
Katie thinks her new track coach is simply unfair! She only puts in the fastest runners, leaving Katie on the bench. But when Katie turns into Coach Debbie, she decides to give all the kids a chance to compete. Will Katie run the team into the ground?

Friends for Never
Katie and Suzanne have been best friends forever. But now Suzanne's become a total snob! Katie has had enough, and declares that she and Suzanne are now friends for never! Then Katie turns into Suzanne at a very important moment–just as Suzanne is about to make her modeling debut! Will Katie's walk down the runway ruin their friendship forever?