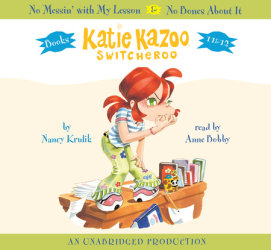 Katie Kazoo, Switcheroo: Books 11 & 12
No Messin' With My Lesson and No Bones About It
Imprint: Listening Library
Genre: Juvenile Fiction - Fantasy & Magic
Ages: 7-9 years
Release Date: December 09, 2008
1 Hours and 58 Minutes
List Price: $20.40
ISBN: 9780739371398
Katie is an ordinary third-grader–except for one very extraordinary problem!  She accidentally wished on a shooting star to be anyone but herself. But what Katie soon learns is that wishes really do come true–and in the strangest ways . . .

No Messin' with My Lesson
Katie's teacher, Mrs. Derkman, is a finalist in the Teacher of the Year contest. But when Katie suddenly turns into Mrs. Derkman, she messes things up for her teacher! How can Katie control a bunch of out-of-control third-graders when she's really just a third-grader herself?

No Bones About It
Katie's class is on a field trip to the Natural History Museum. But this field trip is not a lot of fun–the kids are really acting up, and their tour guide is a big meanie! But when Katie turns into their tour guide, she causes a big disaster of her own. Will Katie be able to get the field trip back on the right track?