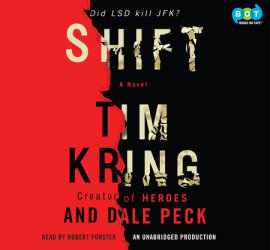 Shift
A Novel
Imprint: Books on Tape
Genre: Fiction - Thrillers - Suspense

Release Date: August 10, 2010
12 Hours and 54 Minutes
List Price: $95
ISBN: 9780307750372
A new caliber of thriller set at the collision of '60s counterculture and the rise
of dark forces in world government. Heroes creator Tim Kring injects history with a supernatural, hallucinogenic what-if.
 
Set in the crucible of the 1960s, Shift is the story of Chandler Forrestal, a man whose life is changed forever when he is unwittingly dragged into a CIA mind-control experiment. After being given a massive dose of LSD, Chandler de­velops a frightening array of mental powers. With his one-in-a-billion brain chemistry, Chandler's heightened perception uncovers a plot to assassi­nate President Kennedy.
 
Propelled to prevent the conspiracy of assassi­nation and anarchy, Chandler becomes a target for deadly forces in and out of the government and is pursued across a simmering landscape peopled by rogue CIA agents, Cuban killers, Mafia madmen, and ex-Nazi scientists…all the while haunted by a beautiful woman with her own scandalous past to purge, her own score to settle. Chased across America, will Chandler be able to harness his "shift" and rewrite history?
 
Combining the nonstop style of Ludlum with the sinister, tangled conspiracies of DeLillo and Dick, and featuring cameos from Lee Harvey Oswald to Timothy Leary to J. Edgar Hoover, Shift is a thriller guaranteed to be equal parts heart-stopping and thought-provoking.