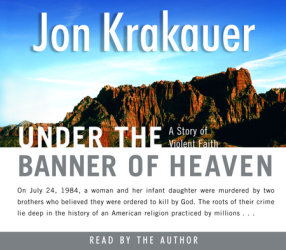 BOT Exclusive
Under the Banner of Heaven
A Story of Violent Faith
Imprint: Books on Tape
Genre: True Crime - Murder - General

Release Date: October 17, 2006
12 Hours
List Price: $81
ISBN: 9780736695183
Categories:
True Crime - Murder - General, Religion - Christianity - Church Of Jesus Christ Of Latter-Day Saints (Mormon), Social Science - Sociology Of Religion
Tags:
religion, history, true crime, mormonism, polygamy, murder, fundamentalism, crime, mormon, utah, lds, cults, flds, faith, mormon fundamentalism, sociology, american, journalism, christianity, violence, american history, usa, current events, politics, america, culture, adventure, spirituality, joseph smith, jon krakauer
In UNDER THE BANNER OF HEAVEN, John Krakauer shifts his focus from extremes of physical adventure to extremes of religious belief within our own borders. At the core of his book is an appalling double murder committed by a pair of brothers, Ron and Dan Lafferty, who insist they were commanded to kill by God. Beginning with a meticulously researched account of this "divinely inspired" crime, Krakauer constructs a multi-layered, bone-chilling narrative of polygamy, savage violence, and unyielding faith. Weaving the story of the Lafferty brothers and their fanatical brethren with a clear-eyed look at Mormonism's violent past, Krakauer examines the underbelly of the United States' most successful homegrown faith, and finds a distinctly American brand of religious extremism.