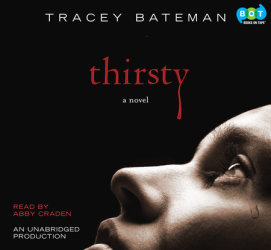 Thirsty
A Novel
Imprint: Books on Tape
Genre: Fiction - Christian - Suspense

Release Date: October 06, 2009
8 Hours and 37 Minutes
List Price: $76
ISBN: 9780307578310
There's no place like home, they say.
"Hello, I'm Nina Parker…and I'm an alcoholic."
For Nina, it's not the weighty admission but the first steps toward recovery that prove most difficult. She must face her ex-husband, Hunt, with little hope of making amends, and try to rebuild a relationship with her angry teenage daughter, Meagan. Hardest of all, she is forced to return to Abbey Hills, Missouri, the hometown she abruptly abandoned nearly two decades earlier–and her unexpected arrival in the sleepy Ozark town catches the attention of someone–or something–igniting a two-hundred-fifty-year-old desire that rages like a wildfire.

     Unaware of the darkness stalking her, Nina is confronted with a series of events that threaten to unhinge her sobriety. Her daughter wants to spend time with the parents Nina left behind. A terrifying event that has haunted Nina for almost twenty years begins to surface. And an alluring neighbor initiates an unusual friendship with Nina, but is Markus truly a kindred spirit or a man guarding dangerous secrets?

As everything she loves hangs in the balance, will Nina's feeble grasp on her demons be broken, leaving her powerless against the thirst? The battle between redemption and obsession unfold to its startling, unforgettable end.