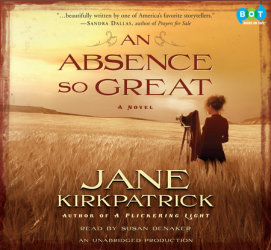 An Absence So Great
A Novel
Imprint: Books on Tape
Genre: Fiction - Historical - General

Release Date: March 16, 2010
13 Hours and 50 Minutes
List Price: $85.50
ISBN: 9780307735577
Did photography replace an absence in her life or expose the truth of her heart's emptiness?
 
While growing in confidence as a photographer, eighteen-year-old Jessie Ann Gaebele's personal life is at a crossroads. Hoping she's put an unfortunate romantic longing behind her as "water under the bridge," she exiles herself to Milwaukee to operate photographic studios for those owners who have fallen ill with mercury poisoning. 
 
Jessie gains footing in her dream to one day operate her own studio and soon finds herself in other Midwest towns, pursuing her profession. But even a job she loves can't keep painful memories from seeping into her heart when the shadows of a forbidden love threaten to darken the portrait of her life.