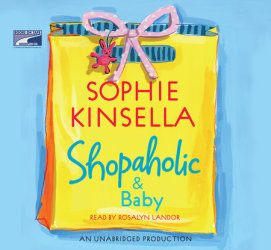 BOT Exclusive
Shopaholic & Baby
Imprint: Books on Tape
Genre: Fiction - Humorous - General

Release Date: February 27, 2007
11 Hours and 57 Minutes
List Price: $95
ISBN: 9781415936641
With over seven million copies of her beloved books in print, Sophie Kinsella is a true phenomenon. Now, after nearly two years without a hilarious new Shopaholic novel, here's Becky...and baby!

Becky Brandon (née Bloomwood) is pregnant! She couldn't be more overjoyed–especially since discovering that shopping cures morning sickness. Everything has got to be perfect for her baby: from the designer nursery...to the latest, coolest pram...to the celebrity, must-have obstetrician.

But when the celebrity obstetrician turns out to be her husband Luke's glamorous, intellectual ex-girlfriend, Becky's perfect world starts to crumble. She's shopping for two...but are there three in her marriage?