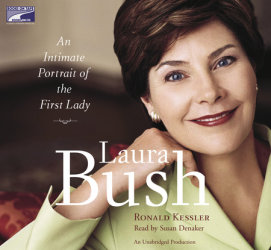 BOT Exclusive
Laura Bush
An Intimate Portrait of the First Lady
Imprint: Books on Tape
Genre: Biography & Autobiography - Political

Release Date: January 08, 2008
8 Hours and 22 Minutes
List Price: $85.50
ISBN: 9781415952795
When Laura Bush moved into the White House on January 20, 2001, everyone wanted to know what kind of first lady she would be. Would she be like Mamie Eisenhower? Would she follow in Barbara Bush's footsteps? Would she be another Hillary Clinton?

"I think I'll just be Laura Bush," she would say.

On Saturday, April 30, 2005, the world got a glimpse of what that meant when she pushed aside the leader of the free world and stole the show at the White House Correspondents' Association dinner. Wearing a shimmering lime green Oscar de la Renta gown, Laura wisecracked that she was a "desperate housewife" married to a president who was always asleep at nine.

Replayed constantly on the air, the stand-up routine with its impeccable comedic timing turned the first lady into a glittering star. But while the performance catapulted her to new status, it did not answer the question of who this former teacher and librarian really is and just what role she plays in influencing her husband and shaping his administration. The Bushes are more effective than the FBI or CIA at keeping secret what goes on behind the scenes at the White House, the ranch, or Camp David.

Now, New York Times bestselling author Ronald Kessler draws back that curtain in the first biography of Laura Bush to be written with White House cooperation. Based on interviews with her closest friends and confidantes from childhood to the present, as well as family members and administration heavyweights like Condoleezza Rice and Andrew Card, Kessler paints a portrait of a woman who, even as she ascended to the heights of political fortune and power, never lost touch with the bedrock American values she absorbed in her youth.

In this unprecedented account, Kessler reveals:

• How Laura's opinions have brought budget changes to a range of federal agencies and have affected her husband's policies, appointments, and worldview.
• Why Laura told her press secretary in May 2001 she did not want to do any more media interviews.
• What President Bush said to Laura at the dinner table after giving the "go" for the invasion of Iraq, and what his father, former President George H. W. Bush, wrote him the next day about the war.
• What Laura's own political opinions are and what her relationship with twin daughters Jenna and Barbara is really like.
• What Laura says in private about Hillary Clinton, media attacks on her husband, and his victory in the 2004 election.
• And why Laura, at the age of seventeen, missed a stop sign and caused a fatal accident that tragically left one of her best friends dead.

Laura Bush a remarkable look at the private world of this famously reserved woman, as well as the beliefs and attitudes that shape it. The book will surprise readers whose knowledge of the first lady comes from cautious media interviews and speeches.

Laura Bush's approval rating stands at 85 percent. Since opinion polls first began asking about them, no first lady has received a higher rating. This moving biography is the first to penetrate the secret world of the president's stealth counselor who is one of our most admired public figures.