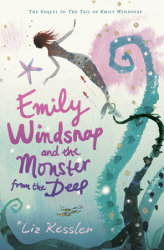 Emily Windsnap and the Monster from the Deep
Imprint: Listening Library
Grades: Grades 2-5
Ages: 7-10 years
Release Date: August 25, 2009
4 Hours and 13 Minutes
List Price: $32.30
ISBN: 9780739386248
A fin-tastic follow-up to The Tail of Emily Windsnap and Emily Windsnap and the Monster from the Deep!

Ever since I discovered I was part mermaid, nothing in my life has been simple. So when I spotted the gigantic diamond ring on the seabed, I should have turned on my tail and swum away. I most definitely shouldn't have put it on.

But how was I supposed to know that the ring was one half of the key to unlocking an ancient curse–a curse put in place by Neptune himself? And now Neptune has put a curse on me, too: in a few days, I'll no longer be half-human and half-mermaid, and I'll have to say good-bye forever to one of my parents. Unless, with the help of a mysterious boy named Aaron, I can find the missing ring and break all of the curses at once. . . .