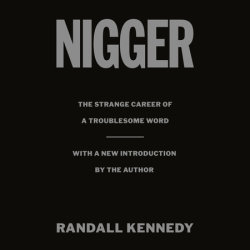 Nigger
The Strange Career of a Troublesome Word - with a New Introduction by the Author
Imprint: Books on Tape
Genre: Social Science - Discrimination

Release Date: February 08, 2022
5 Hours and 25 Minutes
List Price: $47.50
ISBN: 9780593416006
Nigger: it is arguably the most consequential social insult in American history, though, at the same time, a word that reminds us of "the ironies and dilemmas, tragedies and glories of the American experience." In this tour de force, distinguished Harvard Law School professor Randall Kennedy—author of the highly acclaimed Race, Crime, and the Law— "put[s] a tracer on nigger," to identify how it has been used and by whom, while analyzing the controversies to which it has given rise.

With unprecedented candor and insight Kennedy explores such questions as: How should nigger be defined? Is it, as some have declared, necessarily more hurtful than other racial epithets? Do blacks have a right to use nigger even as others do not? Should the law view nigger baiting as a provocation strong enough to reduce the culpability of a person who responds violently to it? Should a person be fired from his or her job for saying nigger? How might the destructiveness of nigger be assuaged?

To be ignorant of the meanings and effects of nigger, says Kennedy, is to render oneself vulnerable to all manner of peril. This book brilliantly and sensitively addresses that concern.