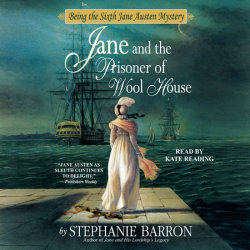 BOT Exclusive
Jane and the Prisoner of Wool House
Imprint: Books on Tape
Genre: Fiction - Mystery & Detective - Historical

Release Date: February 20, 2007
9 Hours and 40 Minutes
List Price: $85.50
ISBN: 9781415937433
"There's plenty to enjoy in the crime-solving side of Jane....[She] is as worthy a detective as Columbo." –USA Today

On a raw February morning, Jane Austen first learns of the case of Captain Tom Seagrave, who faces execution for a murder he swears he didn't commit. Together, she and her brother Frank, a post captain in the Royal Navy, set out to uncover the truth.
It is a journey that leads from the troubled heart of Seagrave's family, through the seaport's worst sinkholes, and finally to the prison of Wool House. Risking contagion or worse, Jane comes away with more questions than answers. Did one of Seagrave's jealous colleagues frame the unpopular captain? Was a veiled political foe at work? And what of the sealed orders under which Seagrave embarked that fateful night on his ship, the Stella Maris?
Then death surfaces again...and Jane must race to untangle the final knots–before she is caught in a killer's net.