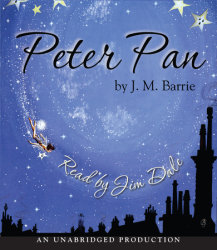 Peter Pan
Imprint: Listening Library (Audio)
Grades: Grades 1-4
Ages: 6-9 years
Release Date: September 26, 2006
5 Hours and 14 Minutes
List Price: $29.95
ISBN: 9780739336908
Categories:
Juvenile Fiction - Classics, Juvenile Fiction - Fantasy & Magic, Juvenile Fiction - Action & Adventure - Pirates
Tags:
fantasy, classic, classics, children's, children, peter pan, pirates, children's literature, adventure, fairies, children's fiction, magic, literature, young adult, british, fairy tales, england, juvenile, childhood, ya, neverland, 20th century, kids, flying, children's books, british literature, growing up, youth, english, indians
"All children, except one, grow up."

So begins the journey of Wendy, John, and Michael Darling as they follow Peter Pan, the boy who never grows up, to a world where fairies live and children can fly. But beware--dangers abound in this magical land of mermaids, Indians, and fairy dust.
There's always an adventure to be had in Neverland. so come along with the Darling children as they soar into the night sky "second star to the right and straight on till morning."