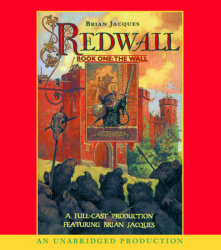 Redwall
Imprint: Listening Library (Audio)
Grades: Grade 5 & Up
Ages: 10 and up
Release Date: October 10, 2006
10 Hours and 43 Minutes
List Price: $65
ISBN: 9780807220177
Categories:
Juvenile Fiction - Fantasy & Magic, Juvenile Fiction - Action & Adventure - General, Juvenile Fiction - Animals - Mice, Hamsters, Guinea Pigs, etc.
Tags:
fantasy, redwall, animals, adventure, young adult, children's, mice, ya, children, children's literature, talking animals, anthropomorphic, children's fiction, kids, juvenile, animal fantasy, war, anthropomorphism, rats, animal, juvenile fiction, mouse, sff, childhood, medieval, teen, anthropomorphic animals, literature, youth, speculative fiction
The book that inspired a legend–the first novel in the bestselling saga of Redwall
Welcome to Mossflower Wood, where the gentle mice have gathered to celebrate a year of peace and abundance. All is well…until a sinister shadow falls across the ancient stone abbey of Redwall. It is rumored that Cluny is coming–Cluny, the terrible one-eyed rat and his savage horde–Cluny, who has vowed to conquer Redwall Abbey! The only hope for the besieged mice lies in the lost sword of the legendary Martin the Warrior. And so begins the epic quest of a bumbling young apprentice–a courageous mouse who would rise up, fight back…and become a legend himself.