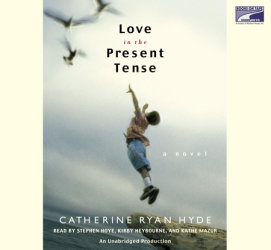 BOT Exclusive
Love in the Present Tense
Imprint: Books on Tape
Genre: Fiction - Literary

Release Date: January 15, 2008
7 Hours and 37 Minutes
List Price: $76
ISBN: 9781415952702
For five years Pearl has managed to keep the past from catching up to her and her bright, frail five-year-old son. Life has given her every reason to mistrust people, but circumstances force her to trust her neighbor Mitch with watching Leonard while she goes off to work. Then one day Pearl drops her son off…and never returns.
They are an unlikely pair: Mitch is a young, unattached business owner, and Leonard is a precocious, five-year-old boy. But together they must find a way to move forward in the wake of Pearl's unexplained disappearance. Their bond as parent and child shifts and endures, even as Mitch must eventually surrender Leonard to a two-parent home.
Is it possible to love the people who can't always be there for us? The answers will surprise and move you. As their lives unfold, profound questions emerge about the nature of love and family. Ultimately, this novel's richest reward is watching Mitch and Leonard grow up together, through the power and the magic of the human heart.