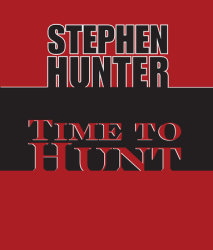 Time to Hunt
Imprint: Books on Tape
Genre: Fiction - Thrillers - Suspense

Release Date: April 04, 2017
21 Hours and 12 Minutes
List Price: $95
ISBN: 9780525496014
He's the most dangerous man alive.  He only wants to live in peace with his family.  It's not going to happen.

Stephen Hunter's epic national bestsellers, Point of Impact and Black Light, introduced millions to Bob Lee Swagger, aka "Bob the Nailer," a heroic but flawed Vietnam War veteran forced twice to use his skills as a master sniper to defend his life and his honor.  Now, in his grandest, most intensely thrilling adventure yet, Bob the Nailer must face his deadliest foe from Vietnam--and his own demons--to save his wife and daughter.

During the latter days of the Vietnam War, deep in-country, a young idealistic Marine named Donny Fenn was cut down by a sniper's bullet as he set out on patrol with Swagger, who had always assumed the bullet was meant for him.  Years later, Swagger marries Donny's widow Julie, and together they raise their daughter Nikki on a ranch in the isolated Sawtooth Mountains in Idaho.  Although he struggles with the painful legacy of Vietnam, Swagger's greatest wish, to leave his violent past behind and live quietly with his family, seems to have come true.

Then one idyllic day, a man, a woman and a girl set out from the ranch on horseback.  High on a ridge above a mountain pass, a thousand yards distant, a calm, cold-eyed man, one of the world's greatest marksmen, peers through a telescopic site at the three approaching figures.  Out of his tortured past, a mortal enemy has once again found Bob the Nailer.

With a plot that sweeps from the killing fields of Vietnam to the corridors of power in Washington, to the shadowy plots of the new world order, Stephen Hunter delivers all the complex action his fans demand in a masterful tale of family heartbreak and international intrigue.