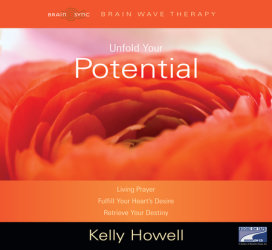 Unfold your Potential
Fulfill Your Heart's Desire; Living Prayer; Retrieve Your Destiny
Imprint: Books on Tape
Genre: Body, Mind & Spirit - Healing - Prayer & Spiritual

Release Date: August 05, 2008
List Price: $28.50
ISBN: 9781415955567
Fulfill Your Heart's Desire
You are guided to explore and discover your heart's deepest needs and desires to help you gain clarity of intention and focus. Next, you are guided to imagine those desires being fulfilled. As you embrace your heart's desire and embody feelings of joy, you'll generate a force field of positive energy that attracts the very things you long for.

Living Prayer
Theta waves are harmonically layered in exquisite music that guides you into the reverent states of meditation where prayers are heard and answered. You are guided to heal the past, release negativity, and open to a new, positive reality that will generate grace and blessings in your daily life. Best of all, you'll come to know that you're never alone—you're guided and protected always.

Retrieve Your Destiny
Retrieve Your Destiny encourages you to reach deep inside your heart to discover the purest, deepest intentions for your life. You are guided to envision and embody the future of your dreams, and to generate nourishing states of being that bring new ideas, opportunities, and possibilities into your life. These are vibrant states that increase your attracting force and erase thoughts of lack or limitation.