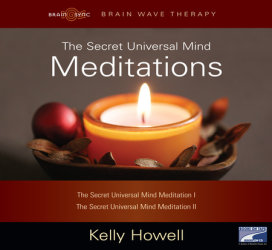 The Secret Universal Mind Meditations
The Secret Universal Mind Meditation I; The Secret Universal Mind Meditation II
Imprint: Books on Tape
Genre: Self-Help - Meditations

Release Date: July 01, 2008
List Price: $22.80
ISBN: 9781415955499
The Secret Universal Meditation I
The Secret imparts the sacred truths spiritual masters have taught for millennia. It starts by changing your belief system gently while you sleep. The Secret is whispered into your ears—first audibly, and then just below the level of consciousness. Without knowing how or why, everything you need and desire will come to you through communing with the Universal Mind. When you know and accept the secret, you have the secret to everything. You will overcome limiting, outmoded beliefs that have hindered your ability to create the life you've always wanted. While theta and delta waves gently lull you to sleep, The Secret meditation unleashes your power to create a new reality that fulfills your deepest needs and desires.

The Secret Universal Meditation II
This program takes you deeper into the magic and mystery of the Universal Mind. Through repeated nightly listening you will move into alignment with Infinite Intelligence. As you attune to the Universal Mind, and surrender personal will to Divine Will, what you need and want comes to you. Powerful messages are delivered in the second person because it's important to hear the truth about who you really are—spoken to You. As negative beliefs are replaced with self-empowering truths about your self, you'll start attracting people, ideas, and opportunities that support you in making your dreams a reality.