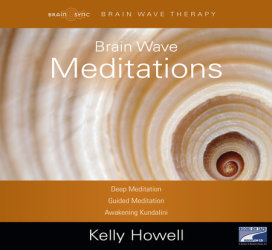 Brain Wave Meditations
Deep Meditation; Guided Meditation; Awakening Kundalini
Imprint: Books on Tape
Genre: Body, Mind & Spirit - Mindfulness & Meditation

Release Date: September 02, 2008
2 Hours and 50 Minutes
List Price: $28.50
ISBN: 9781415955628
Deep Meditation
Completely free of spoken words, this program delivers a unique combination of brainwave frequencies that produce an extraordinary "mind-awake/body-asleep" state. Negative thoughts are dramatically swept away by brilliant flashes of insight and understanding as you experience untold depths of inner peace.

Guided Meditation
Kelly Howell guides you to create your own inner healing sanctuary, a place where you can go to revitalize the very core of your being. You'll learn how to generate states of being that nurture your sense of self, your creativity, and the dynamic expression of your power in the world.

Awakening Kundalini
In Eastern traditions, Kundalini is the name for the extraordinary powerhouse of cosmic energy that resides within you. According to many respected researchers, it is the source from which all creativity, genius, and psychic gifts spring. Other known benefits of Kundalini meditation are increased sexual energy, heightened creativity, and greater vitality. In this program, Theta waves are harmonically layered in music based on ancient Tantric traditions to open the flow of energy to your chakras. As you experience the gifts Kundalini brings, your life will flourish with opportunities to enjoy and express more of who you really are.