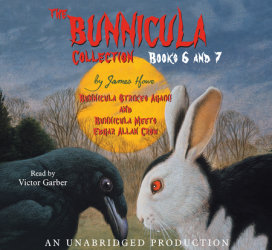 The Bunnicula Collection: Books 6-7
Bunnicula Strikes Again! Bunnicula Meets Edgar Allan Crow
Imprint: Listening Library
Grades: Grades 3-7
Ages: 8-12 years
Release Date: February 17, 2009
4 Hours and 56 Minutes
List Price: $32.30
ISBN: 9780739373835
Bunnicula Strikes Again!
It seems that Bunnicula, the vampire rabbit, is back to his old ways–or so Chester thinks, having found pale vegetables drained of their juices and scattered about the Monroe family kitchen. This time Chester decides to take matters into his own hands (or rather paws). Can Harold let Chester get away with hurting an innocent bunny, no matter what his harebrained suspicions are? When the Monroes notice Bunnicula's weakened condition and rush him to the vet, the chase is on, ending with a dramatic confrontation in a most unusual (and dangerous) location.

Bunnicula Meets Edgar Allan Crow
The Monroe house is going mad with excitement. Pete has just won a contest, and the prize is a school visit from none other than M. T. Graves, Pete's idol and the bestselling author of the FleshCrawlers series. He's even going to stay with the Monroes! Harold and Howie are thrilled, but Chester the cat is suspicious. Especially worrisome to him: In each of the FleshCrawlers books, something bad always happen to the pets…. It's up to Chester, Harold, and Howie to find out if M. T. Graves and his beady-eyed Edgar Allan Crow are really devising a plot to make their beloved bunny . . . NEVERMORE!