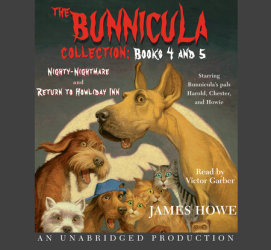 The Bunnicula Collection: Books 4-5
Nighty-Nightmare; Return to Howliday Inn
Imprint: Listening Library
Grades: Grades 3-7
Ages: 8-12 years
Release Date: September 23, 2008
4 Hours and 17 Minutes
List Price: $32.30
ISBN: 9780739373811
Nighty-Nightmare
Are Harold, Howie, and Chester simply lost in the woods with Dawg, their strange new friend? Or have they been lured away from their campsite intentionally, leaving the Monroes at the mercy of evil spirits? Lulling Dawg to sleep with a bedtime story may be their only hope of escaping–but is the hare-raising tale of the origins of Bunnicula, the vampire bunny, really a bedtime story?

Return to Howliday Inn
The Monroes have gone on vacation, once again leaving Harold, Chester, and Howie at Chateau Bow-Wow, which Chester aptly dubbed "Howliday Inn." The motley crew of boarders may have changed, but the creepy goings-on at Howliday Inn have not. A ghostly voice, buried bones, and a collar with the name "Rosebud" on it suggest that murder may have been added to the services offered at the kennel.