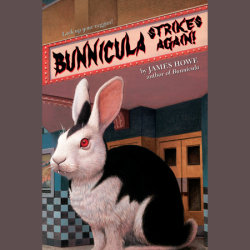 Bunnicula: Bunnicula Strikes Again!
Imprint: Listening Library
Grades: Grades 3-7
Ages: 8-12 years
Release Date: November 08, 2022
2 Hours and 4 Minutes
List Price: $28
ISBN: 9780593682470
It seems that Bunnicula, the vampire rabbit, is back to his old ways - or so Chester thinks, having found pale vegetables drained of their juices and scattered about the Monroe family kitchen. This time Chester decides to take matters into his own hands (or rather paws).

Can Harold let Chester get away with hurting an innocent bunny, no matter what his harebrained suspicions are? When the Monroes notice Bunnicula's weakened condition and rush him to the vet, the chase is on, ending with a dramatic confrontation in a most unusual (and dangerous) location.

James Howe offers Bunnicula fans another delectable blend of mystery, suspense, and belly laughs.