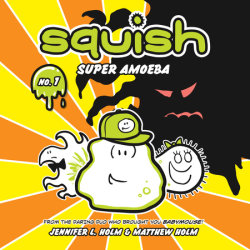 Squish #1: Super Amoeba
Narrator:
Mary Dilts
,
Jorjeana Marie
,
Rob Shapiro
,
Maxwell Glick
,
Andrea Emmes
,
Kirby Heyborne
,
Marc Cashman
,
Mark Deakins
,
Fred Sanders
,
Rene Ruiz
,
Jim Meskimen
&
Tonya Cornelisse
Imprint: Listening Library
Grades: Grades 2-5
Ages: 7-10 years
Release Date: January 25, 2022
0 Hours and 28 Minutes
List Price: $22
ISBN: 9780593451670
Soon to be an animated show on HBO Max!

It's SQUISH—a graphic novel series, now adapted for audio, about a comic book-loving, twinkie-eating grade school AMOEBA trying to find his place in the world (or at least trying to make it through a school day). Inspired by his favorite comic book hero, SUPER AMOEBA!, Squish has to navigate school (bullies! detention! Principal Planaria!), family (dad: Hates to wear a tie. Secretly listens to heavy metal in the car), and friends (Peggy-rainbows! happy all the time! and Pod . . . who's . . . well, you just have to meet him). Can Squish save the world—and his friends—from the forces of evil lurking in the hallways? Find out in Squish: Super Amoeba—saving the world, one cell at a time!