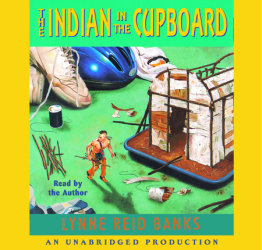 BOT Exclusive
The Indian in the Cupboard
Imprint: Listening Library
Grades: Grades 3-7
Ages: 8-12 years
Release Date: October 17, 2006
4 Hours and 22 Minutes
List Price: $38
ISBN: 9780307246240
Categories:
Juvenile Fiction - Fantasy & Magic, Juvenile Fiction - Social Themes - Friendship, Juvenile Fiction - Classics
Tags:
fantasy, magic, children, native americans, children's, adventure, toys, children's fiction, young adult, cowboys, juvenile, friendship, indians, native american, children's literature, classic, kids, time travel, children's book, lynne reid banks, ya, childhood, classics, juvenile fiction, cupboard, iroquois, british, school, boys, literature
It all started with a birthday present that Omri didn't want—a small plastic Indian that was no use to him at all. But an old wooden cupboard and a special key brought his unusual toy to life, and strange and wonderful things began to happen.

As Omri struggles to balance his real life in England with the characters of the Wild West of 18th century America, his incredible adventures are a fantasy beyond his wildest imagination.