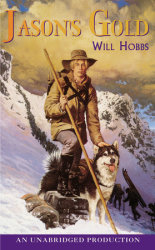 Jason's Gold
Imprint: Listening Library
Grades: Grade 5 & Up
Ages: 10 and up
Release Date: July 08, 2008
5 Hours and 41 Minutes
List Price: $38.25
ISBN: 9780739367100
Unabridged  approx. 6 hrs.   4 cassettes
Performance by Boyd Gaines

"We've got millions!" the prospectors roared to the throng at Seattle's docks.  "The Klondike is the richest goldfield in the world!"  Within moments, the telegraph is humming the news.   Within hours, fifteen-year-old Jason Hawthorn is rushing west from New York City with a bad case of Klondike fever.

For readers who love a survival story told with bone-chilling authenticity, Will Hobbs has spun a saga of courage, friendship and endurance set under the northern lights and amidst the actual events of the Klondike gold rush.