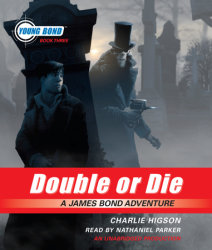 Double or Die: Young Bond Book #3
Imprint: Listening Library
Grades: Grade 7 & Up
Ages: 12 and up
Release Date: May 06, 2008
8 Hours and 33 Minutes
List Price: $46.75
ISBN: 9780739351192
Kidnapping. Explosions. Murder.
This is no ordinary weekend. But then, James Bond is no ordinary boy. . . .

In a north London cemetery, a professor is kidnapped at gunpoint. Then, a suspicious letter crammed with cryptic clues arrives at Eton. To decipher the deadly mystery, James Bond must take a series of dangerous gambles. Once the code is cracked, he has just forty-eight hours to save the professor from the dark forces that threaten to destroy them both. And if they can't escape, it's not only their future under threat: it's the rest of the world's….