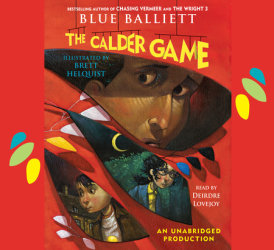 The Calder Game
Imprint: Listening Library
Grades: Grades 3-7
Ages: 8-12 years
Release Date: June 24, 2008
6 Hours and 17 Minutes
List Price: $38.25
ISBN: 9780739368039
Two Calders are missing.  
One is a sculpture.  
One is a boy.

When Calder Pillay travels with his father to a remote village in England, he finds a mix of mazes and mystery . . . including an unexpected Alexander Calder sculpture in the town square. Calder is strangely drawn to the sculpture, while other people have less-than-friendly feelings toward it. Both the boy and the sculpture seem to be out of place . . . and then, on the same night, they disappear!

Calder's friends Petra and Tommy must fly to England to help his father find him. But this mystery has more twists and turns than a Calder mobile caught in a fierce wind . . . with more at stake than first meets the eye.

As she did in her bestselling Chasing Vermeer and The Wright 3, Blue Balliett has created an amazing novel that makes readers observe keenly, feel deeply, and see the world around them in a new and brilliant way.