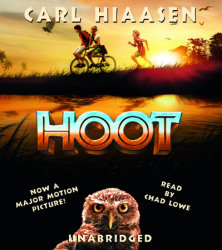 Hoot
Imprint: Listening Library
Grades: Grade 5 & Up
Ages: 10 and up
Release Date: June 27, 2006
6 Hours and 30 Minutes
List Price: $32
ISBN: 9780307206978
Categories:
Juvenile Fiction - Humorous Stories, Juvenile Fiction - Science & Nature - Environment, Juvenile Fiction - Mysteries & Detective Stories
Tags:
florida, owls, environment, mystery, realistic fiction, young adult, humor, animals, ya, adventure, friendship, bullying, children's, environmentalism, conservation, bullies, ecology, endangered species, children, boys, nature, kids, activism, juvenile fiction, juvenile, environmental protection, school, children's literature, children's fiction, funny
This Newbery Honor winner and #1 New York Times bestseller is a beloved modern classic. Hoot features a new kid and his new bully, alligators, some burrowing owls, a renegade eco-avenger, and several extremely poisonous snakes.

Everybody loves Mother Paula's pancakes. Everybody, that is, except the colony of cute but endangered owls that live on the building site of the new restaurant. Can the awkward new kid and his feral friend prank the pancake people out of town? Or is the owls' fate cemented in pancake batter?

Welcome to Carl Hiaasen's Florida—where the creatures are wild and the people are wilder!