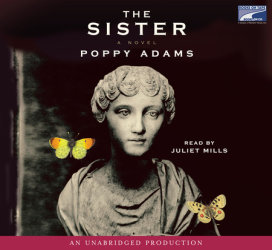 The Sister
Imprint: Books on Tape
Genre: Fiction - Literary

Release Date: July 01, 2008
10 Hours and 49 Minutes
List Price: $76
ISBN: 9781415949665
"This lyrical and haunting story of two sisters, their troubling past, and the terrible secrets they each want buried will stay with you long after you [finish the novel]." –Harlan Coben

From her lookout in the crumbling mansion that was her childhood home, Ginny watches and waits for her younger sister to arrive. Vivien has not set foot in the house since she left nearly fifty years ago; the reclusive Ginny has rarely ventured out, retreating into the precise routines that define her days, carrying on her father's solitary work studying moths.

As the sisters revisit their shared past, they realize that their recollections differ in essential and unsettling ways. Before long, the deeply buried resentments that have shaped both their lives rise to the surface, and Vivien's presence threatens to disrupt Ginny's carefully ordered world.

Told in Ginny's unforgettable voice, this subtle and chilling debut novel tells an extraordinary story of how families are capable of undoing themselves–especially in the name of love.