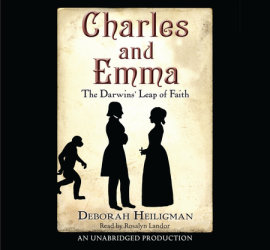 Charles and Emma: The Darwins' Leap of Faith
Imprint: Listening Library
Grades: Grade 7 & Up
Ages: 12 and up
Release Date: January 06, 2009
7 Hours and 38 Minutes
List Price: $42.50
ISBN: 9780739380505
Michael L. Printz Honor
YALSA Excellence in Non-Fiction
YALSA Best Books for Young Adults

A thought-provoking biography of the man behind evolutionary theory.

Charles Darwin published The Origin of Species, his revolutionary tract on evolution and the fundamental ideas involved, in 1859. One hundred and fifty years later, the theory of evolution continues to cause tension between scientific and religious communities. But did you know this debate raged within Darwin himself? Learn about the man behind the theory in an exploration of history, science, and religion.