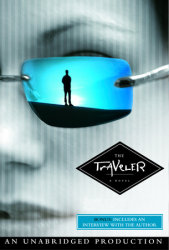 The Traveler
Imprint: Books on Tape
Genre: Fiction - Thrillers - Technological

Release Date: June 27, 2006
15 Hours and 33 Minutes
List Price: $95
ISBN: 9780739346280
Gabriel and Michael Corrigan are two young men living just beneath the glittering surface of life in Los Angeles. Since childhood, the brothers have been shaped by stories that their father was a Traveler — one of an elite group of prophets able to attain pure enlightenment. The Corrigans, who may have inherited their father's gifts, have always lived "off the grid" — that is, invisible to the intricate surveillance networks that monitor people in our modern world.

Thousands of miles away, Maya is attempting to lead a normal life in London. The attractive twenty-six-year-old designer wants to ignore the fact that she comes from a long lineage of Harlequins — a band of warriors pledged to protect the Travelers at all costs. When Maya is summoned to Prague by her ailing father, she learns that Gabriel and Michael have just been located in California. The brothers may represent the last surviving Travelers, and are in desperate need of protection. Maya is reluctant to be drawn into the solitary, destructive life of her ancestors, but she has been trained to fight since she was a young girl.

Also searching for the brothers is Nathan Boone, a disciplined mercenary working for the Tabulas — ruthless men who are determined to inflict order on the world by invisibly controlling its population. Boone and the Tabulas fear the power of the Travelers, and for generations Tabulas have hunted them down. When Maya flies to California in search of Gabriel and Michael Corrigan, a colossal battle looms that will reveal a secret history of our time.

In this stunningly suspenseful first novel, reminiscent of George Orwell and Philip Pullman, John Twelve Hawks has created a vividly imagined world that runs parallel to our own. Moving at lightning speed from the back alleys of Prague to the underworld of Los Angeles to a guarded research facility in New York, The Traveler goes beneath the surface to give us new insights on history and our own lives.