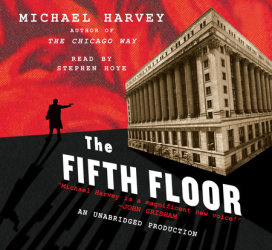 The Fifth Floor
A Michael Kelley Novel
Imprint: Books on Tape
Genre: Fiction - Mystery & Detective - Police Procedural

Release Date: September 09, 2008
7 Hours and 57 Minutes
List Price: $76
ISBN: 9781415957479
Michael Harvey's sizzling follow-up to The Chicago Way ("A wonderful first novel . . . Harvey has studied the masters and put his own unique touch on the crime novel . . . Heralds the arrival of a major new voice" –Michael Connelly) opens with a murder in contemporary Chicago and winds its way back to Mrs. O'Leary's cow and the Great Chicago Fire of 1871.

Private investigator Michael Kelly, the Windy City's answer to Philip Marlowe, is back in an-other page-turner that revives a tantalizing mystery buried in Chicago's past. When Kelly is hired by an old girlfriend to tail her abusive husband, he expects trouble of a domestic rather than a historical nature. Life, however, is not so simple. The trail leads Kelly to an old house on Chicago's North Side. Inside it, he finds a body, and perhaps the answer to one of Chicago's most enduring mysteries: who started the Great Chicago Fire and why. The ensuing investigation takes Kelly to places he'd rather not go: specifically, City Hall's fabled fifth floor, where the mayor is feeling the heat. Kelly becomes embroiled in a scam that stretches from current politics back to the night Chicago burned to the ground, and along the way, he finds himself framed for murder, before finally facing a killer bent on rewriting history.

The Fifth Floor is fast-stepping, intricately woven suspense, rich with the lore and atmosphere of a great city. A marvelous successor to Harvey's critically acclaimed debut.