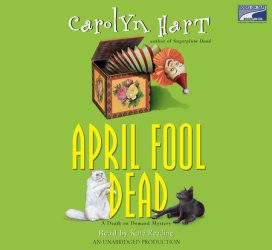 BOT Exclusive
April Fool Dead
Imprint: Books on Tape
Genre: Fiction - Mystery & Detective - General

Release Date: February 20, 2007
8 Hours and 43 Minutes
List Price: $76
ISBN: 9781415937440
When seasonal mischief turns deadly, bookstore owner Annie Darling and her husband, Max, must again close the book on a killer, in this delightful new whodunit from the Agatha, Anthony, and Macavity Award—winning author.

Reading about deadly doings remains as popular a pastime as ever for citizens of stormy Broward's Rock. Now, with spring newly sprung, Annie Darling has conceived of an ingenious promotional scheme: offering a free book to anyone who can solve a series of clues about popular whodunits, Annie and hubby Max pass out their flyers all over town. But an April Fool prankster is distributing a counterfeit flyer–complete with not-so-vague accusations of murder.

Suddenly the Darling name is mud, thanks to the vicious slanders of an unknown counterfeiter. And Annie knows that she herself is going to have to do the bulk of the sleuthing. Then, just as things couldn't seem to get any worse, they do. In the wink of a bloodshot eye, Annie's hunt for a malicious trickster has become a desperate search for a killer. Because now more than her reputation is at stake. If she can't rid her idyllic isle of a secret slayer, the malefactor's next murderous "joke" may be on her!