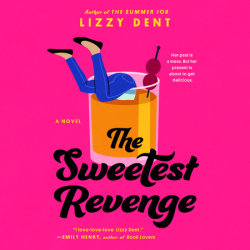 The Sweetest Revenge
Imprint: Books on Tape
Genre: Fiction - Women

Release Date: July 25, 2023
12 Hours
List Price: $95
ISBN: 9780593741368
Bridesmaids meets Emily in Paris—in London—this is a hilarious and heartfelt story of one woman who escaped to London after her moment of ridiculous revenge on an ex went viral, and the life-changing summer she discovers new love and her best self—and finally gets the sweetest revenge.

"I love-love-love Lizzy Dent."—Emily Henry, #1 New York Times bestselling author of Book Lovers

Her past is a mess. But her present is about to get delicious.

Amy is more than the one disastrous night that ended in drunken revenge on her boss/ex-boyfriend's canvas top Audi. The night that tanked her rising TV career and led to a hasty move to London for a fresh start. She is thirty-two years of awesomeness. At least, that's what Amy tells herself every morning before trekking to her mediocre job making trailers at a failing British TV channel.

Two years later, she's finally starting to believe it. But just as sparks fly between her and her handsome new downstairs neighbor and she starts to make inroads at work, the ex-boyfriend who wrecked her life is hired as her new boss and past and present are about to epically collide.