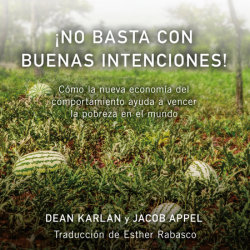 ¡No basta con buenas intenciones!
Cómo la nueva economía del comportamiento ayuda a vencer la pobreza en el mundo
Imprint: Books on Tape
Genre: Business & Economics - Economic Conditions

Release Date: April 18, 2023
8 Hours
List Price: $66.50
ISBN: 9780593678657
En este libro pionero, Karlan y Appel conjugan la economía del comportamiento con la investigación de campo. Llevan a sus lectores consigo por pueblos de todo el mundo – desde Ghana hasta Kenia pasando por Sudáfrica, la India y Filipinas, Perú y México– en los que la teoría económica choca con la realidad. Muestran que ciertos cambios en la banca, los seguros, la asistencia sanitaria, la educación junto con otras iniciativas que tienen en cuenta la irracionalidad humana pueden mejorar radicalmente el bienestar de la gente pobre en todo el mundo. En los países desarrollados hemos encontrado maneras de mejorar profundamente nuestra vida. Utilizamos nuevos instrumentos para gastar de una manera más inteligente, ahorrar más, comer mejor y llevar una vida más acorde con nuestros deseos. Estos instrumentos pueden conseguir lo mismo en sociedades más pobres. Las investigaciones de Karlan y Appel, y las de algunos de sus colegas, muestran exactamente cómo lograrlo. Sólo en Estados Unidos, los particulares donan más de doscientos mil millones de dólares al año a instituciones benéficas, el triple de lo que donan las empresas, las fundaciones y los legados juntos. Este libro presenta una nueva manera de entender lo que realmente funciona para reducir la pobreza y muestra, al mismo tiempo, cómo invertir mejor esos miles de millones y comenzar, de esta forma, a transformar el bienestar de todo el mundo.

ENGLISH DESCRIPTION

A revolutionary approach to poverty that takes human irrationality into account-and unlocks the mystery of making philanthropic spending really work.

American individuals and institutions spent billions of dollars to ease global poverty and accomplished almost nothing. At last we have a realistic way forward. Presenting innovative and successful development interventions around the globe, Dean Karlan and Jacob Appel show how empirical analysis coupled with the latest thinking in behavioral economics can make a profound difference. From Kenya, where teenagers reduced their risk of contracting AIDS by having more unprotected sex with partners their own age, to Mexico, where giving kids a one-dollar deworming pill boosted school attendance better than paying their families to send them, More Than Good Intentions reveals how to invest those billions far more effectively and begin transforming the well-being of the world.