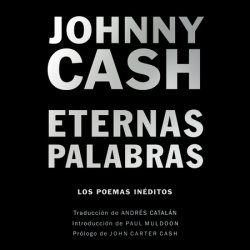 Eternas palabras
Los poemas inéditos
Imprint: Books on Tape
Genre: Poetry - American - General

Release Date: May 16, 2023
2 Hours
List Price: $22.80
ISBN: 9780593678503
Con la concesión del premio Nobel de Literatura a Bob Dylan quedó de manifiesto algo que millones de lectores ya sabíamos desde hace tiempo: muchos de los grandes compositores contemporáneos son también grandes poetas. En el caso de Johnny Cash, no solamente su música y su voz son sin duda referentes indiscutibles de la cultura contemporánea, sino que sus canciones a menudo retratan pequeñas historias contadas en verso, como si pertenecieran a la añeja tradición de la poesía oral musicalizada.

En Eternas palabras aparece por primera vez (y en edición bilingüe) una meticulosa selección de poemas y letras musicales realizada tanto por su hijo, John Carter Cash, como por el poeta ganador del premio Pulitzer Paul Muldoon, de entre los miles de papeles con anotaciones dejados por Johnny Cash tras su muerte. En estos materiales inéditos encontramos una excelente muestra de la curiosidad y sabiduría de Cash, que lo mismo compuso poemas o canciones sobre pasajes bíblicos que sobre las situaciones más triviales de la vida cotidiana.

Eternas palabras es un pequeño regalo póstumo de Johnny Cash para sus incontables seguidores, que escucharán al leerlo ecos de esa voz que seguramente los ha acompañado en momentos inolvidables de sus vidas.

ENGLISH DESCRIPTION

These never-before-published poems by Johnny Cash make the perfect gifts for music lovers and fans alike. Edited and introduced by Pulitzer Prize-winning poet Paul Muldoon with a foreword by John Carter Cash, this poetry collection was also made into an album with music by Rosanne Cash, Brad Paisley, Willie Nelson, Kacey Musgraves, Elvis Costello, and more.

Since his first recordings in 1955, Johnny Cash has been an icon in the music world. In this collection of poems and song lyrics that have never been published before, we see the world through his eyes and view his reflection on his own interior reality, his frailties and his strengths alike. In his hallmark voice, he pens verses about love, pain, freedom, and mortality, and expresses insights on culture, his family, his fame, even Christmas. Forever Words confirms Johnny Cash as a brilliant and singular American literary figure. His music is a part of our collective history, and here the depth of his artistry and talent become even more evident.