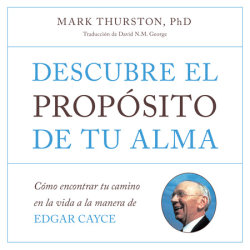 Descubre el propósito de tu alma
Cómo encontrar tu camino en la vida a la manera de Edgar Cayce
Imprint: Books on Tape
Genre: Body, Mind & Spirit - Inspiration & Personal Growth

Release Date: May 16, 2023
7 Hours and 30 Minutes
List Price: $66.50
ISBN: 9780593678442
Es ésta una nueva edición de la guía clásica para que pongas en práctica las percepciones espirituales y psicológicas del afamado místico y médium Edgar Cayce con el fin de saber cuál es tu verdadera misión en la vida.

El médico y clarividente Edgar Cayce (1877-1945) nos dejó abundantes lecturas o interpretaciones intuitivas sobre todos los temas: desde la salud y la espiritualidad hasta la psicología y las vidas anteriores. En la actualidad, Mark Thurston, el profesor más importante de las enseñanzas de Cayce, pone al día y revisa su obra clásica Descubre el propósito de tu alma para ayudarte a utilizar las enseñanzas de Cayce en el siglo XXI y dar con un propósito más elevado en tus relaciones personales, tu carrera profesional y tu misión general en la vida.

ENGLISH DESCRIPTION

A new edition of the classic guide to using the spiritual and psychological insights of renowned mystic and psychic Edgar Cayce to find your authentic mission in life.

The medical clairvoyant Edgar Cayce (1877-1945) left the world a wealth of intuiitive readings on everything from health and spirituality to psychology and past lives. Now the most significant teacher of Cayce's teachings, Mark Thurston, updates and revises his classic book, Discovering Your Soul's Purpose, to help you use the Cayce teachings in the twenty-first century to find greater purpose in your relationships, career, and overall mission in life.